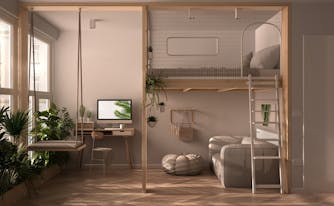 Loft Bedroom Ideas: How to Make the Most of Your Small Bedroom Space
Loft beds are becoming increasingly popular among apartment dwellers, parents, and other sleepers. They offer the unique ability to open the storage space underneath your bed and transform it into a multifunctional area. 
You can actually use the space under a loft bed for a variety of things, depending on your individual needs in your bedroom space.
In this article, we'll discuss the top nine ways you can use a loft bedroom design to make the most of a small bedroom space.
1. Add a loft to your living room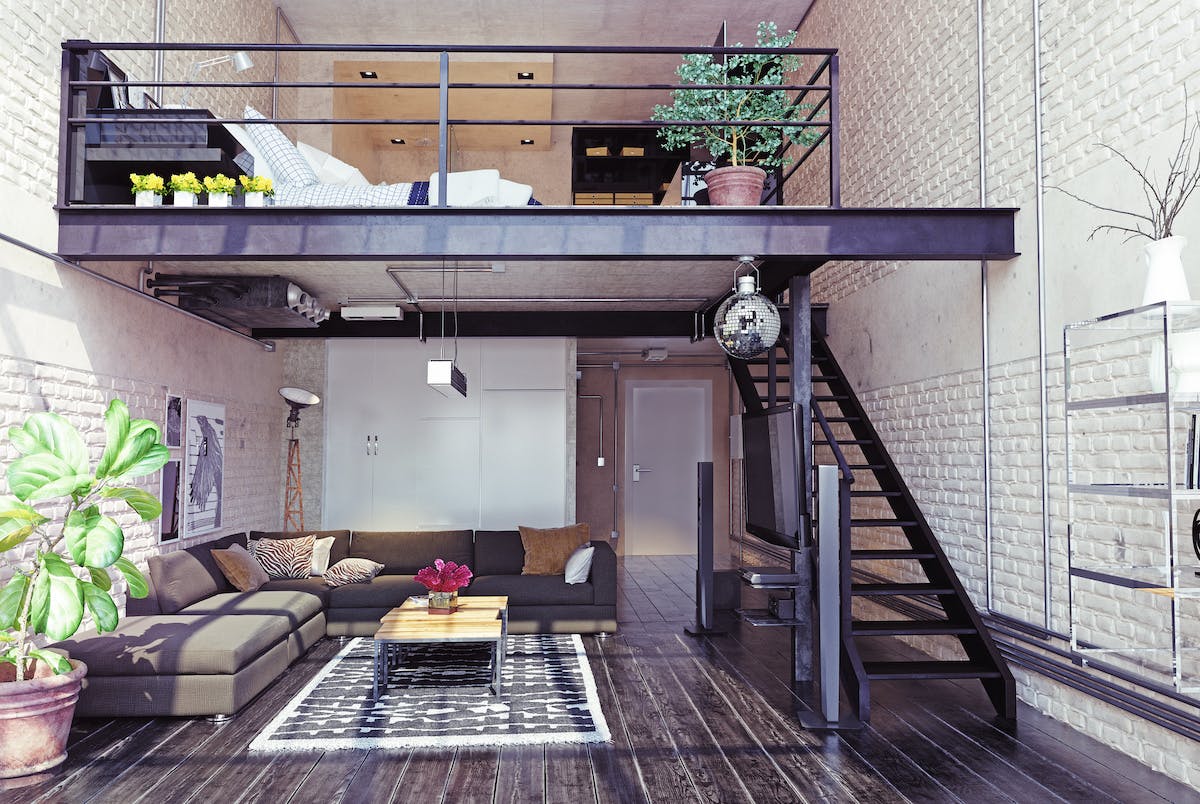 Add a loft bed to your living room to free up space within the rest of your home.
As rent becomes increasingly expensive in cities and towns across the country—and more people continue to work from home even post-pandemic—many of us are using our homes as a living space, sleeping area, and now a home office as well.
While the need for a dedicated workspace in the home is growing, the square footage of your apartment is not. Putting a loft in your living room (whether you live in a studio, one-bedroom, or larger living space) can help you free up some extra space in your home.
You can add a lofted bed to your living room and still utilize most of the room as an entertainment space. That means you can use the bedroom as a home office or guest room without having to sacrifice square footage.
2. Create an office space under your bed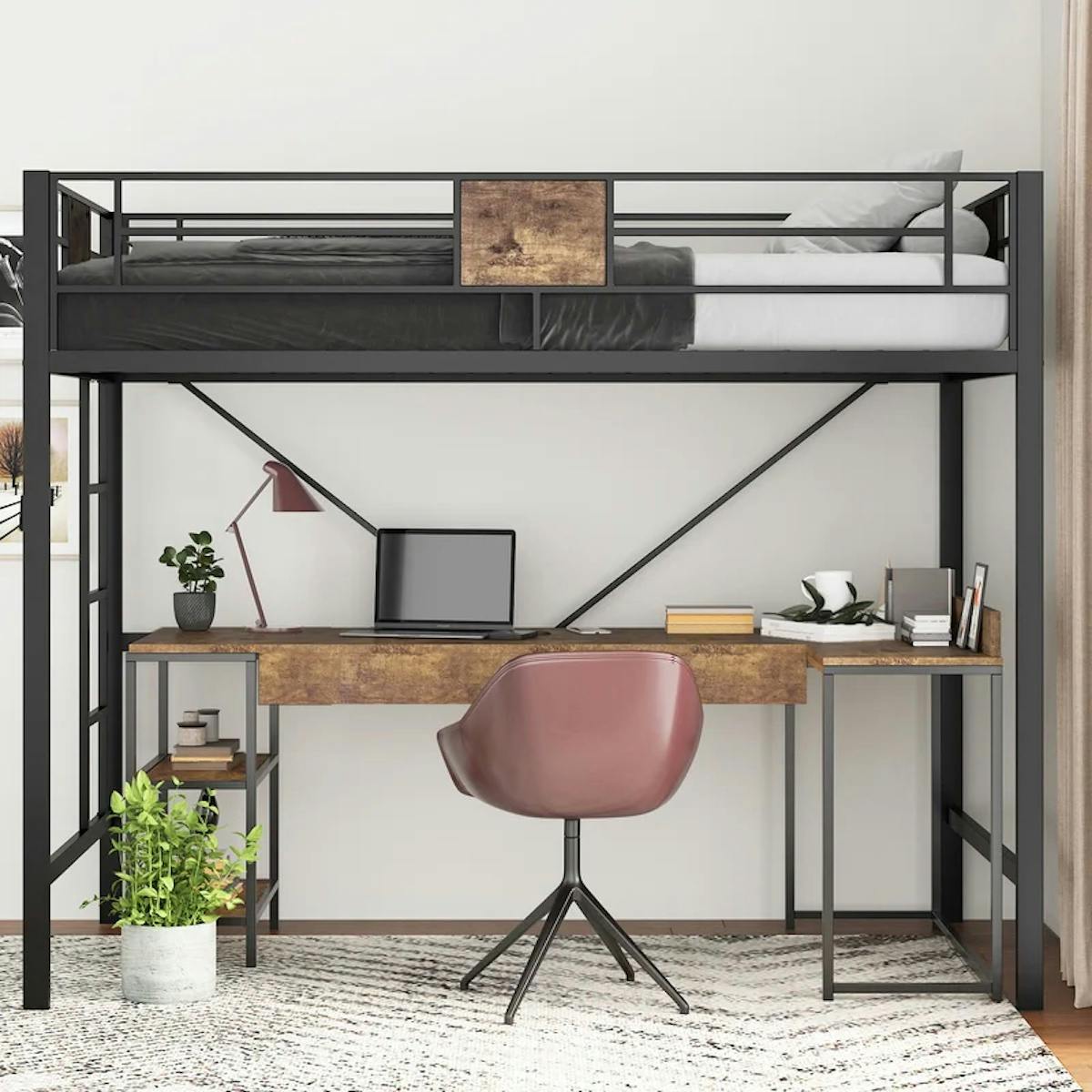 Save space by setting up your office under a loft bed. (Style seen here available at Wayfair.)
You can also choose to use the space underneath your lofted bed as an office setup. There will likely be enough space for a desk, chair, and other organizational furniture. This gives you the freedom to use your bedroom in multiple ways.
If you have a small room, you can be sure you'll have enough space for a small office setup. This can help you save floor space and open up your room design in a more multifunctional way.
This hack is especially helpful for those in dorm rooms or studio apartments, where your space is already fairly limited.
3. Use your loft bed as a bookshelf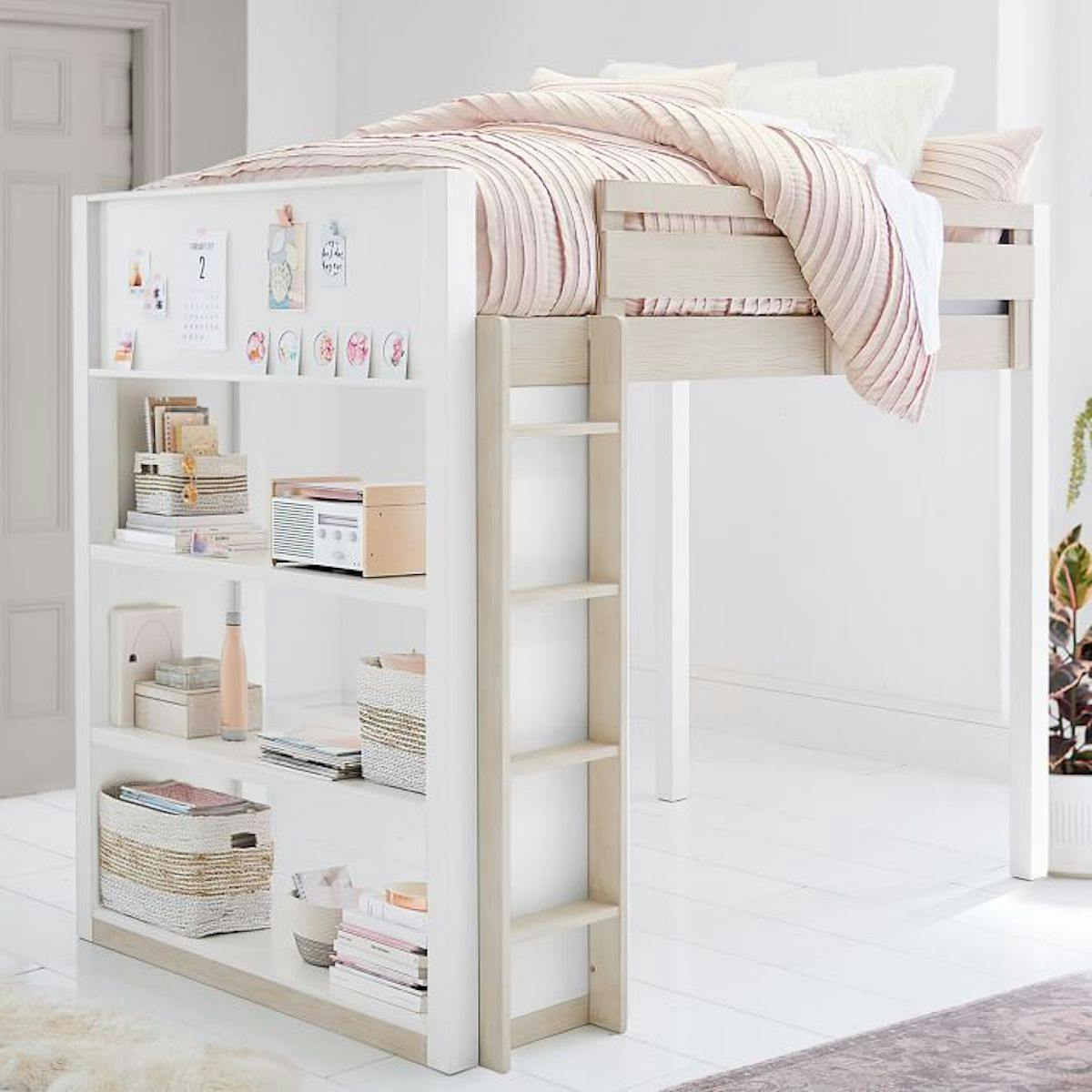 Use the side of your loft bed as a bookshelf for extra storage. (Style seen here available at Pottery Barn.)
It can become increasingly difficult to find places to store your things in a small apartment or bedroom. But using your furniture in multiple ways can help negate that.
One way is to use the sides of your loft bed as a bookshelf. This can help free up space in your bedroom, while also incorporating multifunctional interior design elements.
Bookcases can often be large in size and take up a lot of space in your home. If you don't have a lot of square footage to work with, incorporating them in or underneath a lofted bed is a great space-saving room idea.
4. Include extra storage space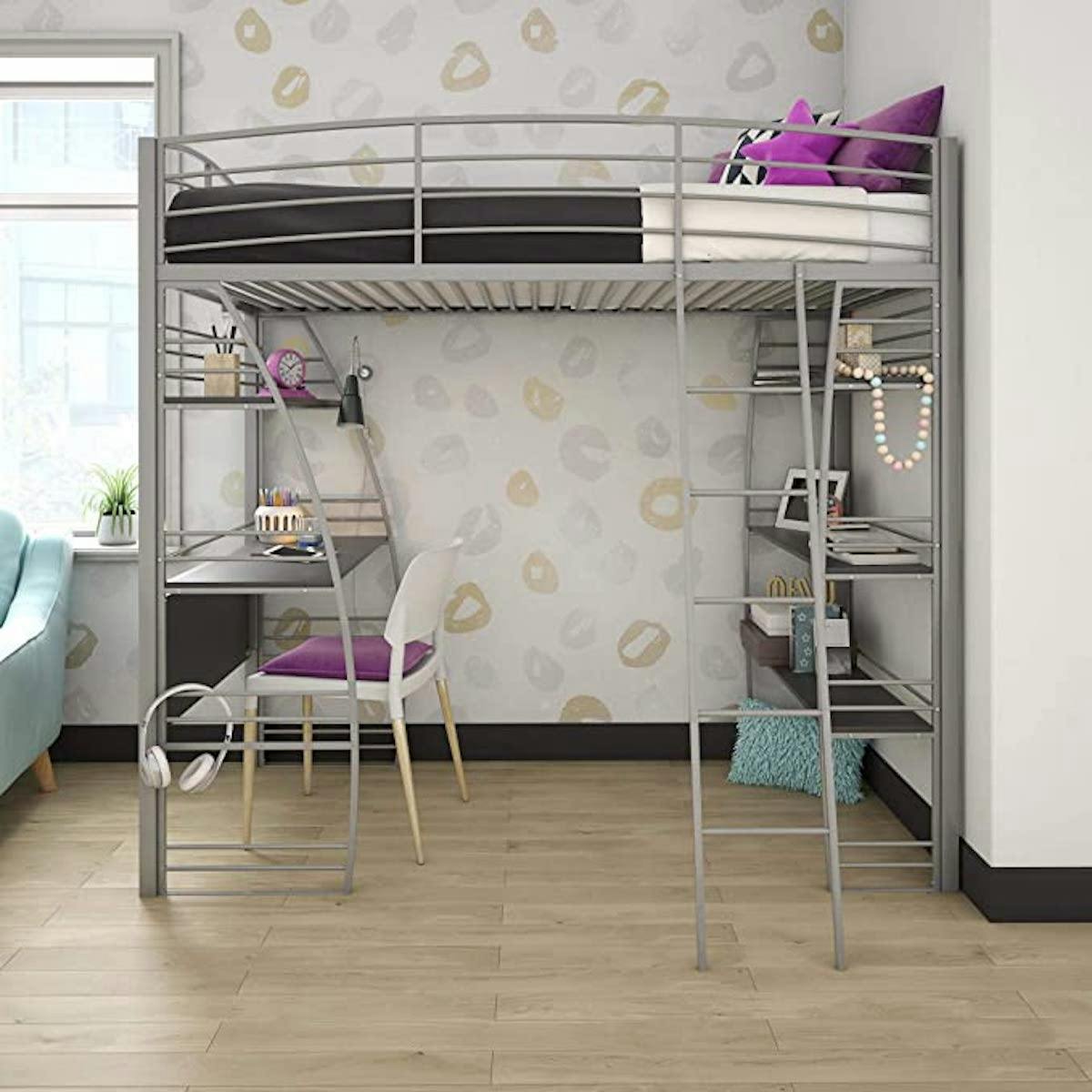 Incorporate extra storage space into your room decor with a loft bed. (Style seen here available at Amazon.)
It can be hard to find storage space when you first move into a new living space. For example, many people living in New York need to limit the number of belongings they bring from place to place because the apartments tend to be small.
You can incorporate extra storage space into your room decor when you use a lofted bed. With floor space not being occupied by a large bed, you have more freedom to store your belongings.
This hack is particularly useful if you have high ceilings because you can elevate your bed higher to gain more space for storage or functionality.
5. DIY a loft bunk bed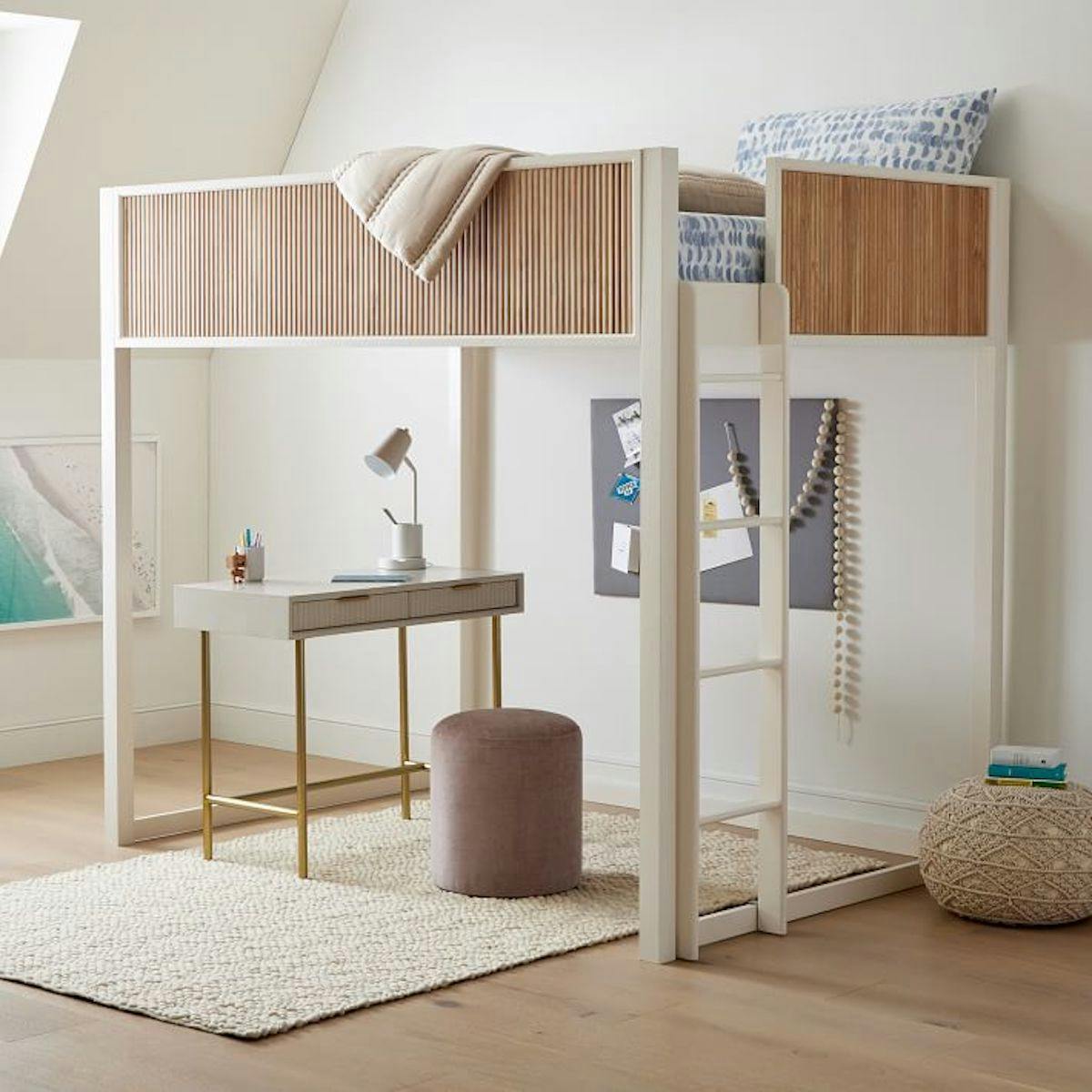 DIY a loft bunk bed to create more space in your bedroom. (Style seen here available at West Elm.)
A DIY loft bed is easy enough to make as long as you have the right tools. You may also use a bunk bed to DIY your own loft bed as well. Taking on a DIY project like this can help save you money and allow you to personalize the design for your own sleeping space.
A DIY project like this also allows you to create a multifunctional space suited for your personal needs—whether you're trying to fit a bed into a tiny house, children's room, living room, or other small spaces. There are tons of online tutorials that are easy to follow.
6. Design a cozy reading nook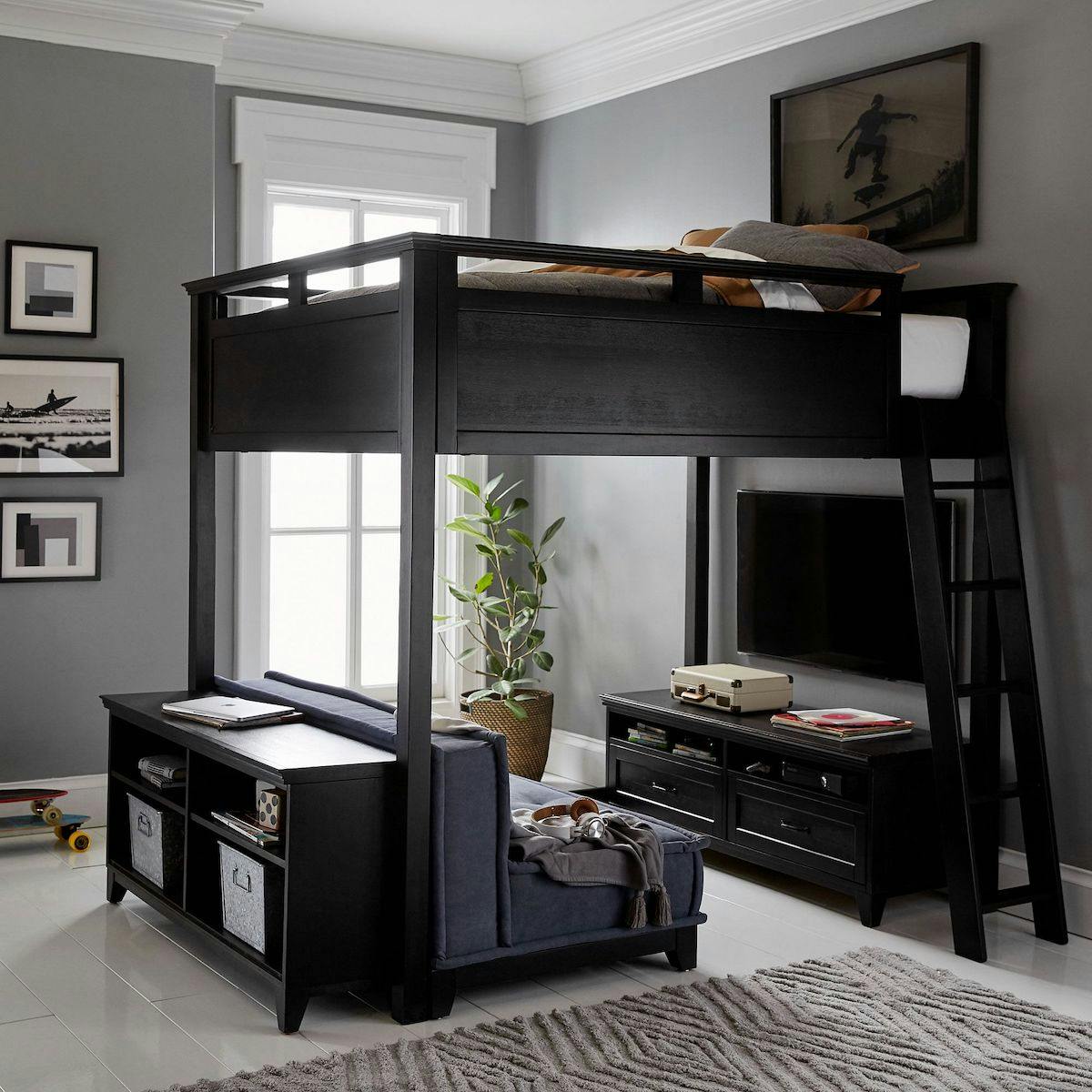 Create a reading nook under a loft bed for a cozy spot to unwind. (Style seen here available at Pottery Barn Teen.)
You can also use a loft bed to create a cozy reading nook in the available floor space underneath. This would work well in a studio apartment with limited space, a small bedroom for an adult, a teen bedroom, or a kid's room. 
Not only will this act as a place you can unwind at night, but it will also give you storage space for your favorite books. Adding a comfortable chair along with a small bookshelf, reading light, and table can really create an ultra-cozy place for you to curl up with your favorite book.
7. Go for a minimalist design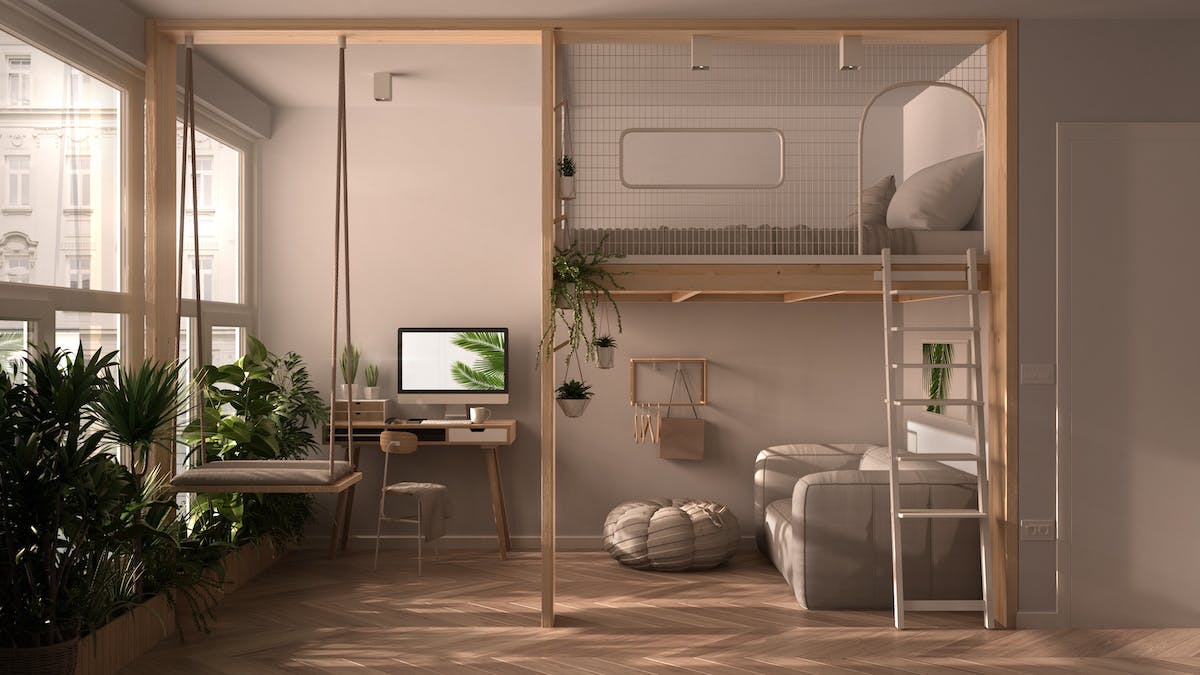 Embrace a minimalist design with a loft bed to open up space in your bedroom.
A minimalist design will also work well with a loft bed. If you're looking for a modern, Scandinavian design, you can use a lofted bed to create more open space.
A loft bed can provide a lighter, airier feel for a living space. You can choose to use the extra floor space functionally or use it as a design element in your home decor plan.
You should aim to create a cohesive design with minimalist touches if that's the interior design style you favor the most.
8. Use the space as a walk-in closet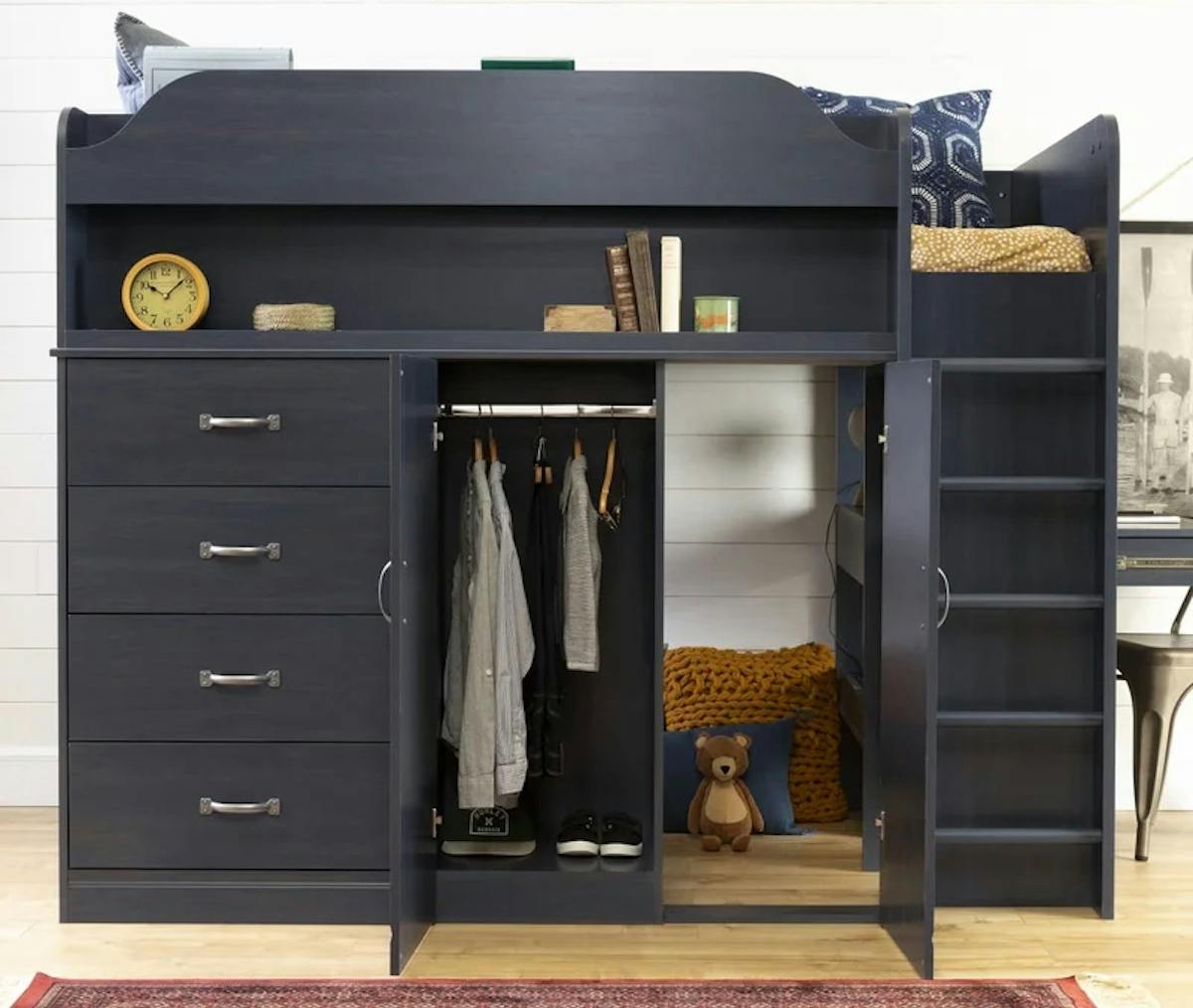 Create a walk-in closet under a loft bed for extra storage space. (Style seen here available at Wayfair.)
In smaller spaces, you can often struggle to find proper closet space and clothing storage. But a loft bed can be used functionally as a walk-in closet if it's set up properly.
Using the space underneath your loft bed as a walk-in closet will allow you to use the space functionally and increase storage for your home.
You can even set up a small curtain or room divider if you'd like it to feel more like a separate space.
9. Add a play area to your kid's bedroom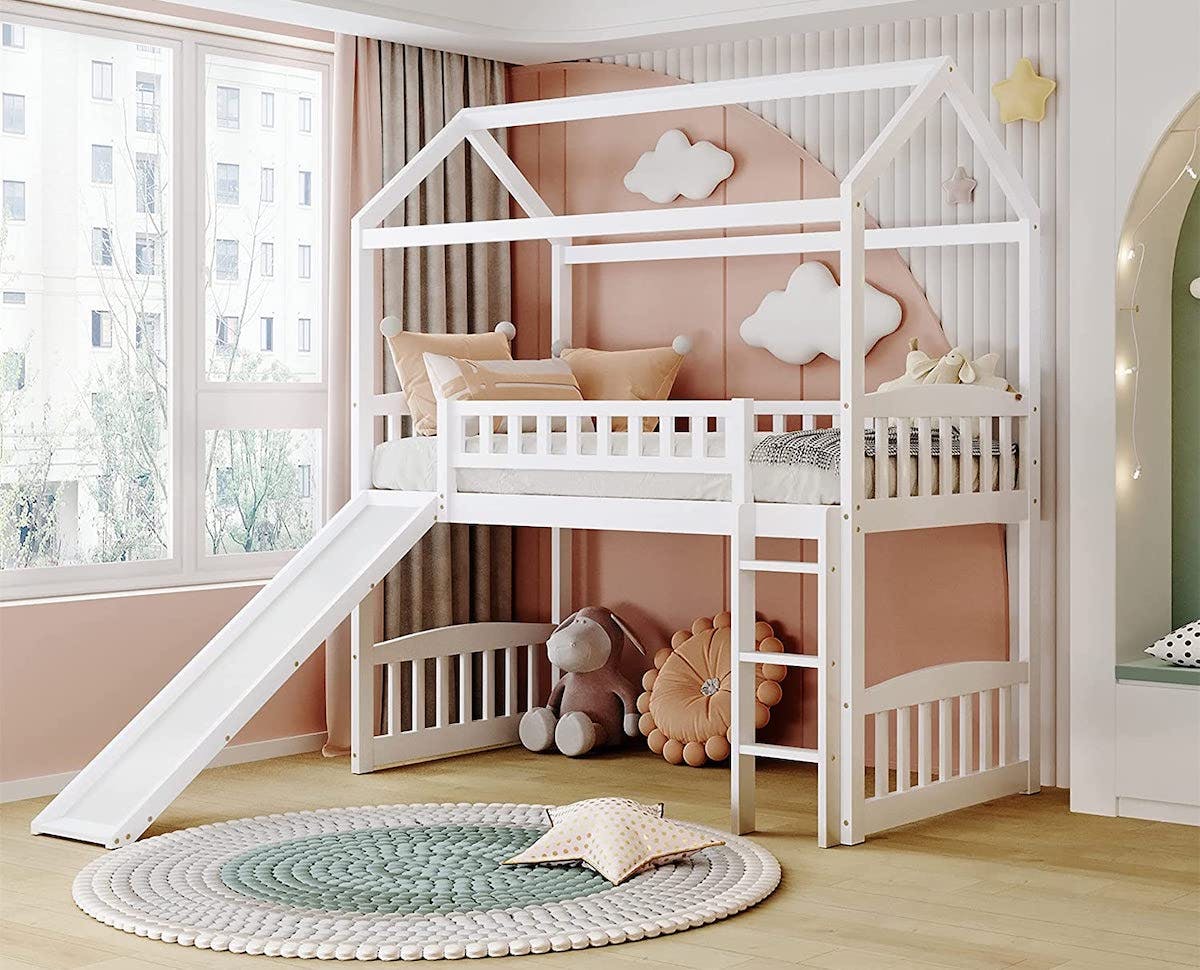 Put a play area under a loft bed in your child's room. (Style seen here available at Amazon.)
Another great way to utilize the area underneath your loft bed is to add a small play area for your children. This is a great way to keep your children's toys organized and out of the way, while still giving them proper space to play around.
Bunk beds are very common in children's rooms because they can be used during sleepovers or to house multiple children in one room.
However, you can also use a loft bed—which is essentially a bunk bed without the bottom bunk—to open up the space and include a play area.
This can allow you to properly store toys, playhouses, and other small things without making the room feel cluttered. It can also be a great way to open up the rest of your home by providing a place for the children to play on their own.
Best types of mattresses for loft beds
A loft bed may seem like your ideal type of bed frame. It saves space, allows for more storage, and creates a multifunctional sleeping area.
Before purchasing a loft bed, you should ensure you have the proper mattress for one. Ideally, mattresses for loft beds should be lightweight, low profile, and the right size.
Loft beds are available in most sizes but are most commonly found in twin, twin XL, and full sizes. You'll also want to make sure your mattress isn't too heavy or prone to sagging since you'll be sleeping a few feet in the air.
Loft beds should also be low profile. You don't want them to have a large pillow top or be too tall because you could slip over the guardrail in the middle of the night.
For the most part, innerspring mattresses tend to work well on loft beds because you can find options that are lightweight, low profile, and offer the proper level of support for most sleepers. 
You may be able to find hybrid or foam mattresses that fit the description as well. You should aim to customize the feel for your personal sleeping preferences.
Design your perfect bedroom with mattresses and other accessories by Saatva
Loft beds are a great way to transform your sleeping space into a multifunctional room with smart storage.
Saatva has a large collection of mattresses, bed sheets, and other bed accessories that can help transform your bedroom into the coziest and most comfortable space possible. 
Take our online mattress quiz to find the right mattress for your sleep needs. We give you 365 nights to try our mattresses in your home before deciding if they're right for you.